The Herbal Academy
<a href="https://theherbalacademy.com/product/herbal-materia-medica-course/?ap_id=tmp252511" target="_blank" ><img src="https://i2.wp.com/theherbalacademy.com/wp-content/uploads/2017/05/45-Materia-Medica-Course-promotion-300x600-c.jpg?w=960&ssl=1" alt="Enroll in the Materia Medica Course!" border="0" data-recalc-dims="1" /></a>
Herbal Materia Medica Course is now Open for Registration!

Starting this morning, the Herbal Academy is officially opening the Herbal Materia Medica course! If you are participating in the Bundle promotion, use your affiliate link to continue momentum from last week's bundle. It is only $45 for students to register for the class, and $79 to upgrade with a Materia Medica Journal!
A little refresher on the course:
Launched earlier this year, the Herbal Materia Medica Course is an excellent addition to your herbal studies, geared for beginners and more advanced herbalists alike. We created the Herbal Materia Medica Course out of a love for herbs and a desire to encourage others to enrich their studies one herb at a time. The Herbal Materia Medica Course teaches students to research and compile herbal monographs to curate an individualized materia medica that is unique to them. This course provides a template to work with as you study and begin to better understand your herbs and is a wonderful resource with many downloads and resources!
The course also goes beyond just explaining how to work through creating a materia medica monograph. We've made sure to add plenty of information on herbal safety, researching tips, and activities to help you connect to each plant in your journal.
The Herbal Materia Medica Course has been our most popular program yet, and at $45 is affordable for people at any level of study who are interested in herbalism.
Join us in sharing about this program! We'll keep registration open through

June 20th

!
5 Days of Giveaways!


June 5, 2017 - June 9, 2017
Our 5 Days of Giveaways campaign has quickly become a favorite annual event for the Herbal Academy Community and this is your chance to get in on the action! Throughout the week, we'll be featuring a new giveaway each day for our readers to participate in and giving you a great opportunity to earn many affiliate clickthroughs! Winners are announced throughout the week via email. We will cap off the week with a surprise 3-day flash sale including 15% off all of our courses.

Here is a sneak peek for the week:
Social Media Download

You can find this image, along with affiliate ads, available for download on your affiliate dashboard!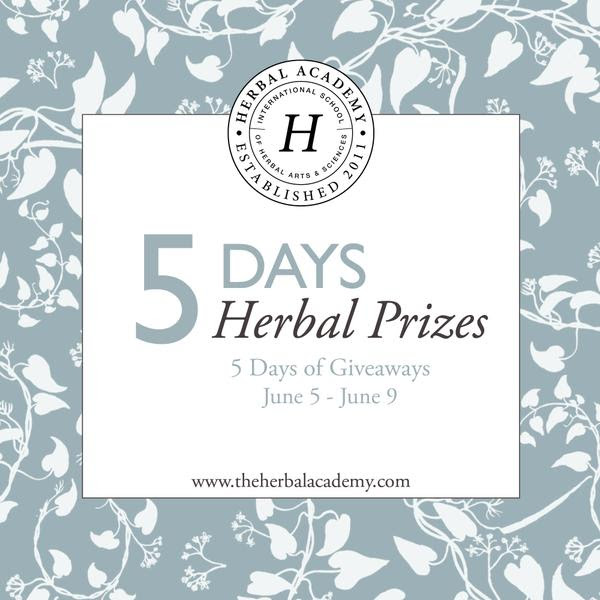 24 SOUTH ROAD
BEDFORD MA 01730
USA

Is it the bare trees, the snowflakes falling outside our windows, or the colder days that hint that winter is quickly approaching? We hope your homes are filled with warmth and cheer this season – no matter what is happening outdoors!

We are just weeks away from holiday celebrations, and we know that time is ticking to get everything done on our checklists and all wish list gifts purchased and wrapped.
It's on that note that we would would like to mention that

tomorrow

,

December 13th

is the last day to order herbal products from the Goods Shop if you want them in time for Christmas!
Botanical Products We're Excited About!
Order by

December 13th at midnight EST

to be included in our last Goods Shop shipment!
If you've been eyeing products in the Good Shop, don't delay in moving your wish list items to checkout any longer! Place your order by

midnight EST

tomorrow

to ensure you get your package by Christmas.
Herbalism Courses & Packages are up to $366 off
for the Holidays! Join us!
Valid through December 2017
No coupon required. Discount applied at checkout! ENROLL HERE
"I just wanted to express my gratitude to you for creating such an informative, organized, and beautiful herbalism program. Your Introductory Herbal Course was one of my first real open doors into the world of Herbalism, and I found it to be a clear and concise glimpse into the beautiful experience that we may have with the natural world. I am currently a student of Massage Therapy, so the holistic health field is a strong passion of mine. I also work in a plant nursery, and my "happy place" just so happens to be the outdoors.
This course was a great way for me to combine my whole world into one great format.
I am inspired to keep learning and growing... Thank you for being a part of my journey!"